Eat All The Things
A downloadable game for Windows, macOS, and Linux
Please be aware this is now a much older build of the game - check the recent trailer on the Kickstarter to see all the upgrades!
We've had hundreds of downloads - we hope you enjoy the game! We're falling behind our Kickstarter goal, even pledging £1 / $1 / €1 will add up and help us!
SUPPORT US ON: https://www.kickstarter.com/projects/360951081/eat-all-the-things.


Back at least $1 to be entered to win a copy of Sonic Mania on any platform!
This is a Pre-Alpha build of the game currently on Kickstarter.
If you enjoy the game and like its direction, please consider backing us.

Check us out on Twitter https://twitter.com/EatAllThe
Heading to Nintendo Switch, PC/Mac/Linux, and Android.
This Pre-Alpha build is FREE. Please consider sending us bug reports and general comments.

Eat All The Things You play as Bronut, a little guy who loves food so much he's dressed himself up as a donut. His love for food means he just can't help himself, whether the food belongs to him or not. You'll be aided by TABLET Corp's very own Tablet Borgias! He'll give you tips and encourage you along the way. However, he appears to be playing both sides, for his own amusement and financial gain! Tablet has been selling his TABLET Corp. Watcher Surveillance Systems to people whose food you're stealing!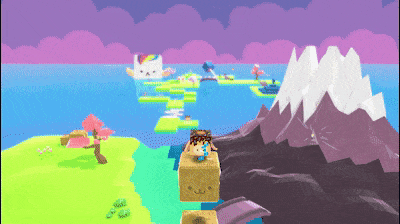 Navigate many vibrant levels and help Bronut eat all the things! It's not all smooth eating though - beware of the watcher and the evil host! They're not really evil of course, after all it's their food... but anything that gets between Bronut and his treats is the enemy!

The watcher keeps watch on the stage with a spotlight, avoid it at all costs! Otherwise, the evil host will be alerted of your location and you will have to run and hide! Don't get caught! Be sure to make use of terrain and objects to hide from the spotlight.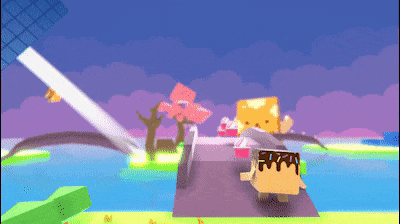 As it goes, Bronut doesn't count his macros... he puts on weight with each snack, making him larger and slower. But putting on the weight can work out in your favour! You can weigh down big switches, reach higher places, resist high-speed winds, and much more! Be sure to visit your local TABLET station to "unload" when you need to!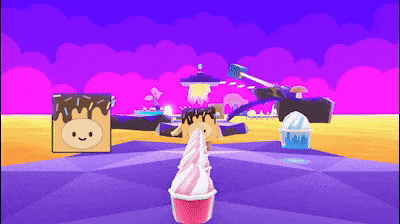 As you progress through the game you will encounter new and interesting foods, such as colder than cold ice creams and the sweetest of sweet doughnuts. These may give you side-effects such as brain freeze (enabling you to walk on lava), and a sugar rush (increased run speed and jump height).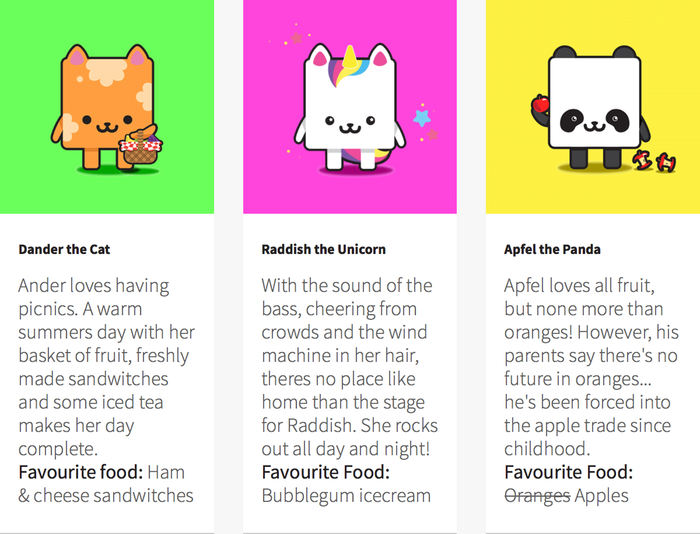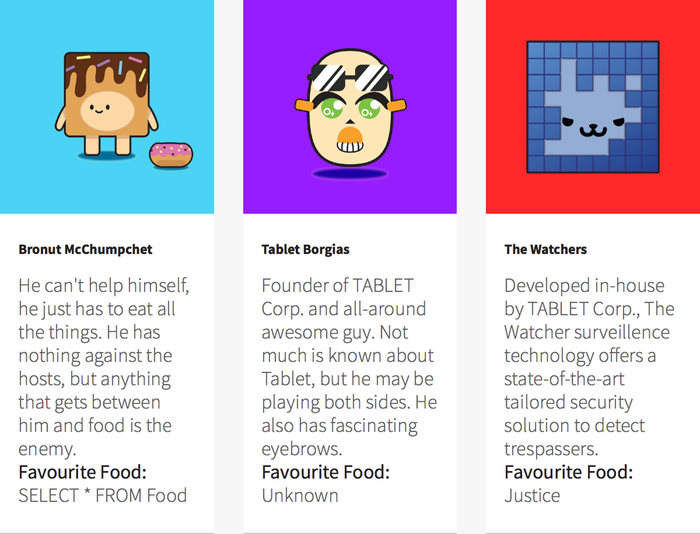 The more you eat the more points!
Bonuses unlocked for achieving high scores.
Required number of points needed to unlock next levels.
Abilities with time limits for specific puzzles and obstacles.
Puzzles only solvable depending on your current weight.
Special abilities gained from eating different food.
Boss levels with twitch-platforming
Online leaderboards!
| | |
| --- | --- |
| Published | Aug 21, 2017 |
| Status | In development |
| Platforms | Windows, macOS, Linux |
| Rating | |
| Author | Eat All The Games |
| Genre | Platformer |
| Tags | 3D Platformer, Cute, Puzzle-Platformer, Stealth |
| Average session | About a half-hour |
| Languages | English |
| Inputs | Keyboard, Gamepad (any), Touchscreen, Smartphone |
| Accessibility | Configurable controls, Interactive tutorial |
| Links | Homepage, Kickstarter, Twitter, Instagram, Patreon |
Download
Click download now to get access to the following files:
EAT_Windows_64bit.zip
28 MB
EAT_Windows_32bit.zip
26 MB
EAT_Linux_32bit_64bit.zip
48 MB
Comments
Log in with your itch.io account to leave a comment.
when can i play it on android
es muy entretenido, resalta mucho por su estetica y funciona exelente en Linux :3
I like this game! It's really fun and cute! I love how you get heavier the more you eat so you need to fix that to jump. However I'm not sure how to save or exit the game.

Hello! Thank you for the feedback. You raise a fair point - we should include a more obvious way to exit the game - watch this space :). The game automatically saves your progress when you complete a stage - we'll add some kind of notifier for this too :) If you enjoy the game please consider backing us on Kickstarter! https://www.kickstarter.com/projects/360951081/eat-all-the-things
I really enjoyed this. Threw some links in the description, hope you guys meet your kickstarter goal!
This is not only a cute game but very fun, I am in love with this and can't wait to see where it ends up. I really hope you keep up the great work. I love your art style as well!
Very cute! I've enjoyed what I have played so far. For some reason my dialogue boxes don't scroll or anything (if they were supposed to) so I am not getting to see all of the text. This happens a lot. One thing I would request is the ability to turn the camera. It's really hard to keep track of Dander on the 3rd island when you can't see what's around you. Oh, and once you get caught by Dander, the text cuts off before you can read all of it.
I like the different kinds of ice cream and the cute aesthetic. I hope to get to see more, and I'll try to back when I get the chance :)
Hello! Thank you so much for your feedback - we really appreciate it! We published an update just before you posted this which solved the following:
User-interface does not scale to resolutions outside of the 16:9 aspect ratio.
Sometimes the dialogue panel will remain on-screen until the next dialogue event is triggered.
Getting caught cuts off the dialogue before restarting the level.
Hopefully you'll see these changes if you try the game again :) we're also investing some time to improve the camera - watch this space!
Okay so I just downloaded and played this game and.... This is absolutely AMAZING! I've never seen a 3D game so adorable in my life, I loved every moment of it. Great Job! I haven't found any bugs yet but ill be sure to tell you if I find anything.
But other than that, wonderful job! You and whoever worked on it all deserve a pat on the back! <3 <3 <3
Thank you for the kind feedback! We're really happy that you like it, please consider backing us on the Kickstarter campaign so we can finish it off and bring it to our target platforms :)